During summer, in Ayurvedic medicine, we lighten up our foods and hydrate more! Enjoy my yummy detox protein-packed Salad Nicoise recipe and our Live Fit Detox Weight Loss Elixir.
Live Fit Detox Weight Loss Elixir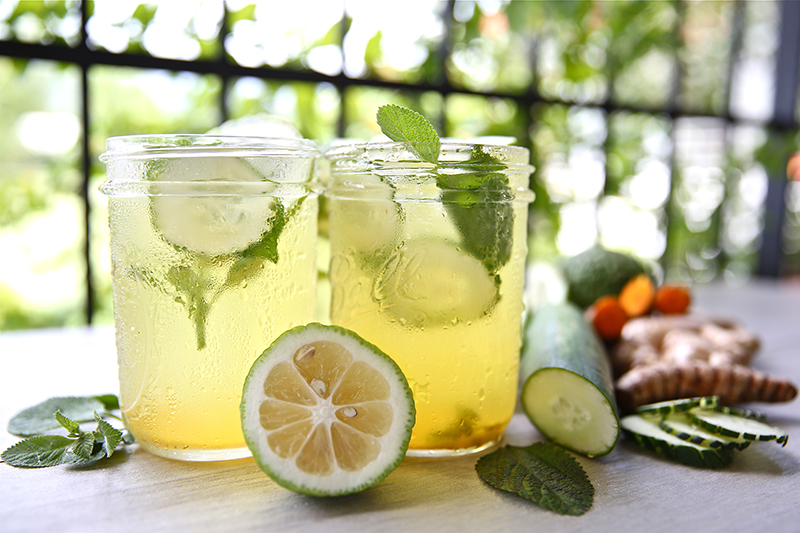 PREP TIME: 20 mins | SERVING SIZE: 16 cups
I first tried this Elixir in Bali and loved it so much; I incorporated it into my Detox Programs! I brew a large pot each week and kept it in my fridge so I always have it on hand. The Anti-Inflammatory, Anti-Cancer properties of Ginger, Turmeric and Lemongrass, with Liver Cleansing Lemon, Kidney Supporting Cucumber, Metabolism Boosting Cinnamon and Cooling Mint really help to speed up the Detox process!
Ingredients
4 quarts of Water (16 cups)
1 large peg of Ginger, peeled and crushed
1 large peg of Turmeric, peeled and crushed
1 fist full of Lemongrass
1 large Cucumber
2 Lemons or Limes
3 sprigs of Fresh Mint
1 Tsp. Cinnamon
Instructions
Bring water to boil
Add Ginger, Turmeric, Lemongrass and Cinnamon
Boil for 20 minutes
Allow liquid to cool
Strain liquid and pour into mason jars or a jug
When serving, add sliced Cucumber and Lemons or Limes
Serve hot with a teaspoon of honey for a delicious warm tea, or cold with sparkling water and ice for a refreshing drink!
Want to step into the best version of yourself you've always dreamed of?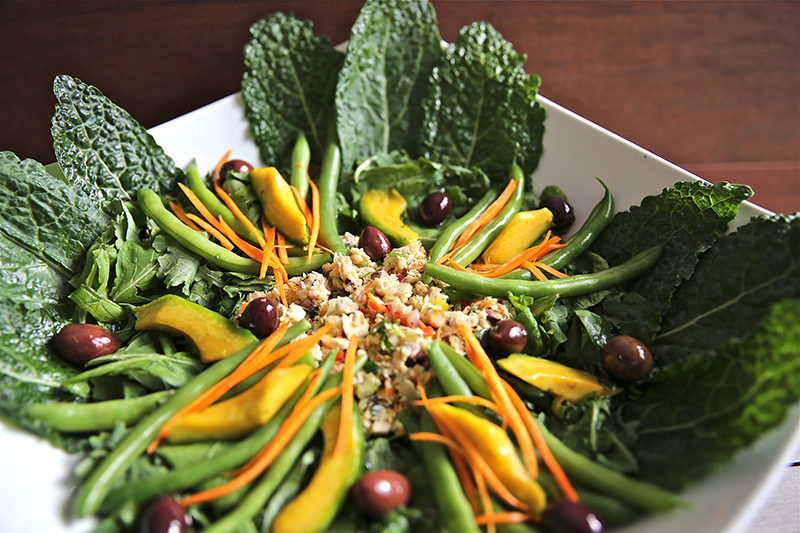 Protein Packed Salad Nicoise
PREP TIME: 20 mins | SERVING SIZE: 2
I spent a year at school in Paris and I think the only thing I can say in French is Salad Niçoise (French pronunciation: [ni'swaz])! I adore this Salad and it packs an awesome protein punch after a hard morning workout!! It's so simple to make, the dressing is delicious and it's oh so good for you!
Ingredients
2 fillets of your favourite Fish (Salmon, Snapper, Tuna) or use a high quality canned Tuna like Wild Planet
1 Tbsp. Olive Oil
2 cloves Garlic
1 Tbsp. Cilantro
4 cups of Organic Mixed Greens or Lettuce
1⁄2 cup Steamed String Beans
1 Carrot, sliced
1⁄2 cup Cooked and Diced Sweet Potato, Yam or Breadfruit
2 slices of Avocado, diced
1 Hard Boiled Egg (optional)
12 Nicoise Olives
For the Dressing
2 Tbsp. Balsamic Vinegar (Aged if possible)
1 Tbsp. Dijon Mustard
1 Tsp. Honey or Brown Sugar
1 clove Garlic
1 Tsp. Rosemary
1 Tsp. Thyme
1⁄2 Tsp. Sea Salt
1⁄4 Tsp. Ground Black Pepper
1⁄4 cup Extra Virgin Olive Oil
Instructions
Marinate Fish in Olive Oil, Garlic and Cilantro for an hour then Grill or Broil until cooked. If you are using canned Tuna, you can add Olive Oil, Garlic and Cilantro and a little Pepper to it to make it yummy.
While Fish is cooking, whip all Salad Dressing Ingredients in your high-speed blender.
Wash and Dry the Mixed Greens and put them in a beautiful bowl or plate. Decorate with Avocado, Egg, Sweet Potato, String Beans, Carrots and Olives.
Top with Fish and serve with Balsamic Dressing for a perfect meal.
Délicieuse – the other word I know in French!