The benefits of sweet potatoes are endless, and I love them prepared this way. The nutritional yeast gives them a cheesy taste that kids and adults love. Serve them with the Callaloo, Pumpkin, and Lentil Burgers or Spicy Mahi-Mahi Fish Burgers (recipes in the Live Fit Kitchen Cookbook).
YIELD: 2 servings 
PREP TIME: 15 minutes 
COOK TIME: 25 minutes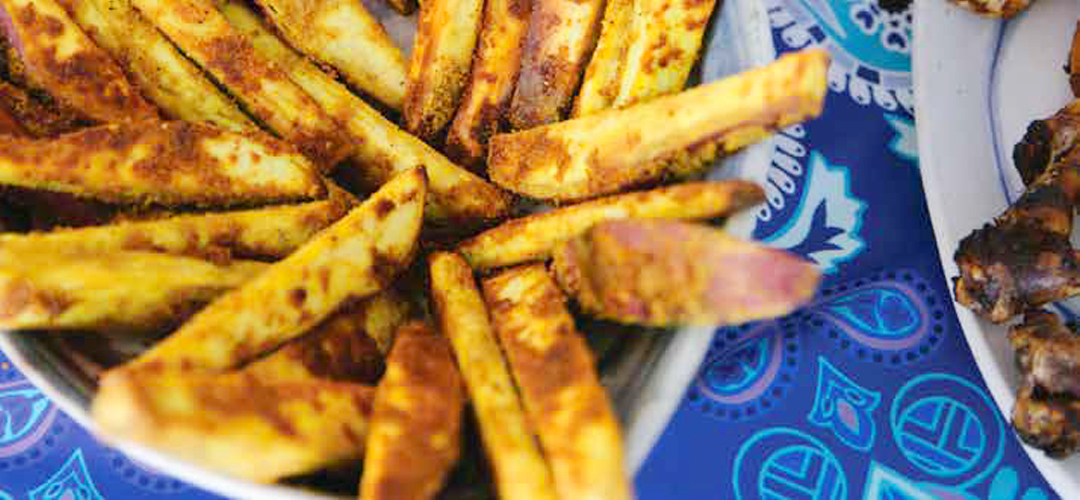 3 tablespoons extra-virgin olive oil, plus more for the baking sheet
2 tablespoons nutritional yeast
1 clove garlic, minced
1 teaspoon onion powder
1 pinch cayenne pepper
Himalayan sea salt
Ground black pepper
2 medium sweet potatoes, cut into ¼-inch strips
Preheat the oven to 475°F. Lightly coat a baking sheet
with olive oil, or line with parchment paper.
In a small bowl, combine the nutritional yeast, garlic, onion
powder, and cayenne. Season to taste with salt and pepper.
Add the 3 tablespoons of olive oil and whisk until combined.
Pour the spice mixture into a large resealable
plastic bag. Add the sweet potatoes and shake
to coat them with the oil mixture.
Arrange the sweet potatoes in a single layer on the baking
sheet. Make sure they are not "overcrowded"—use two pans
if necessary. Bake for 15 minutes. Flip the fries over and cook
for another 10 minutes, until tender and golden brown.
Remove from the oven and enjoy with
your favorite dipping sauce.