Since Jamaica has a tropical marine climate, our average temperature year-round is about eighty degrees Fahrenheit, but in the summer it is often near ninety. The ocean breeze does help, but I like to cool it down even more with cucumbers.
Not only do cucumbers keep you hydrated, but they also flush toxins, lavish you with vitamins, and fight heat from the inside out.
Enjoy this fresh, crunchy salad as a meal or with your favorite protein. Prepare the roasted chickpeas while the salad is resting in the fridge.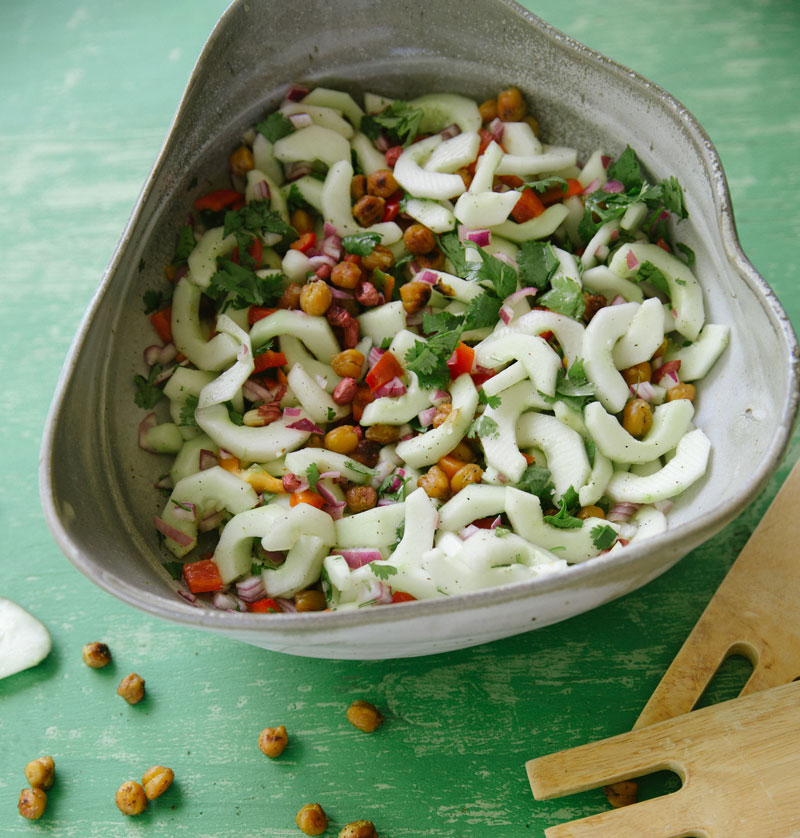 YIELD: 2 to 4 servings
PREP TIME: 45 minutes
Ingredients for the Salad
2 medium cucumbers
1 medium red bell pepper, diced
1 medium red onion, diced
¼ cup chopped fresh cilantro
¼ cup chopped roasted peanuts
1 recipe Roasted Chickpeas Crunch (see page 169 of my Live Fit Kitchen Cookbook)
Ingredients for the Dressing
½ cup rice wine vinegar
1 tablespoon honey
1 tablespoon sesame oil
½ teaspoon Himalayan sea salt
1. Whisk all the dressing ingredients together in a small bowl and adjust to taste.
2. Peel the cucumbers, remove the ends, and slice in half lengthwise. Scoop out the seeds with a small spoon.
3. Slice the halves into ¹⁄₈-inch-thick halfmoons and transfer to a large bowl.
4. Add the peppers, onions, and cilantro to the bowl.
5. Pour the dressing over the vegetables and toss to combine.
6. Cover the bowl with a lid or plastic wrap and chill the salad for about 30 minutes in the fridge.
7. Toss the salad again before serving. Portion into bowls, top with the peanuts and chickpeas, and serve immediately.