Sometimes I really want something warm and soothing in my tummy in the morning.
Now I eat gluten-free steel-cut oats, which are much less processed and have loads more fiber than old-fashioned oats.
They do take a little longer to cook, so I make them the night before and put them in the fridge. The next morning all I need to do is warm them up, top with fruit and nuts, and I'm ready to go!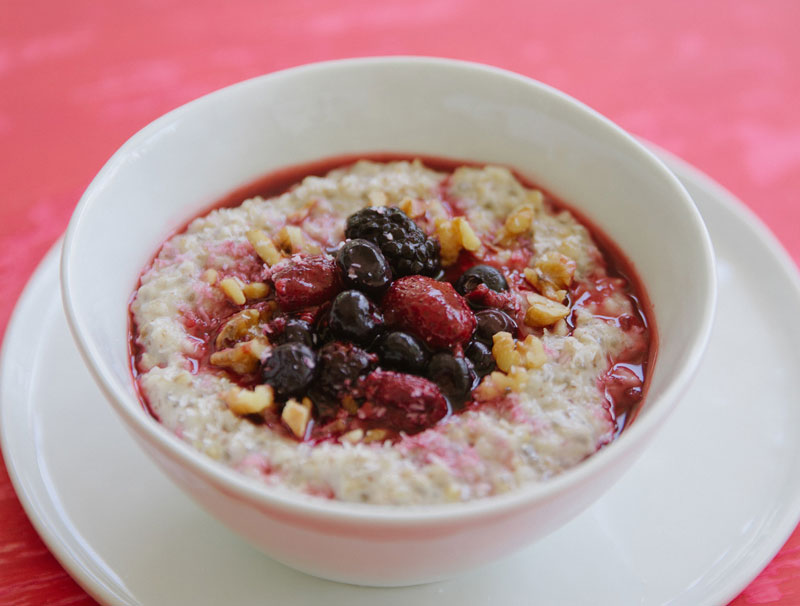 YIELD: 2 1/2 cups
PREP TIME: 10-15 minutes
COOK TIME: 10 minutes
cups water
½ cup gluten-free steel-cut oats
1 tablespoon ground flaxseeds
1 tablespoon chia seeds
¼ teaspoon cinnamon
¼ teaspoon ground nutmeg
½ cup Homemade Vanilla Almond Milk (page 158 of my Live Fit Kitchen Cookbook), Homemade Coconut Milk (page 159 of my Live Fit Kitchen Cookbook), or store-bought unsweetened almond or coconut milk
1 tablespoon honey
2 teaspoons unsweetened shredded coconut, toasted
2 teaspoons chopped walnuts
2 ounces mixed berries or fruit of your choice
1. Bring the water to a boil. Add the oats, cover, and simmer for 5 to 8 minutes.
2. Add the flaxseeds, chia seeds, cinnamon, and nutmeg, stirring continuously for 1 to 2 minutes.
3. Add the milk and honey and remove from the heat.
4. Cool, then pour into 2 (10-ounce) containers and top each with coconut and walnuts. Store overnight in the fridge.
5. Add your mixed berries in the morning!
6. This can be enjoyed warm or straight from the fridge if you are in a rush.