This tomato sauce is a staple in my home. We make it in batches and freeze it so we can put together a delicious pizza or pasta in minutes. I make it from market-fresh tomatoes, herbs from the garden (herbs from your local farmers market are great too), and tons of garlic. Everyone in the house loves it! It replaces ketchup and transforms into a gorgeous tomato soup. Or spread it on a gluten-free wrap, add some fresh mozzarella and grilled chicken, and you have a fantastic, healthy pizza. Don't forget tomatoes are an abundant source of lycopene, a potent antioxidant! This sauce is the bomb.
YIELD: 4 cups 
PREP TIME: 15 minutes 
COOK TIME: 35 minutes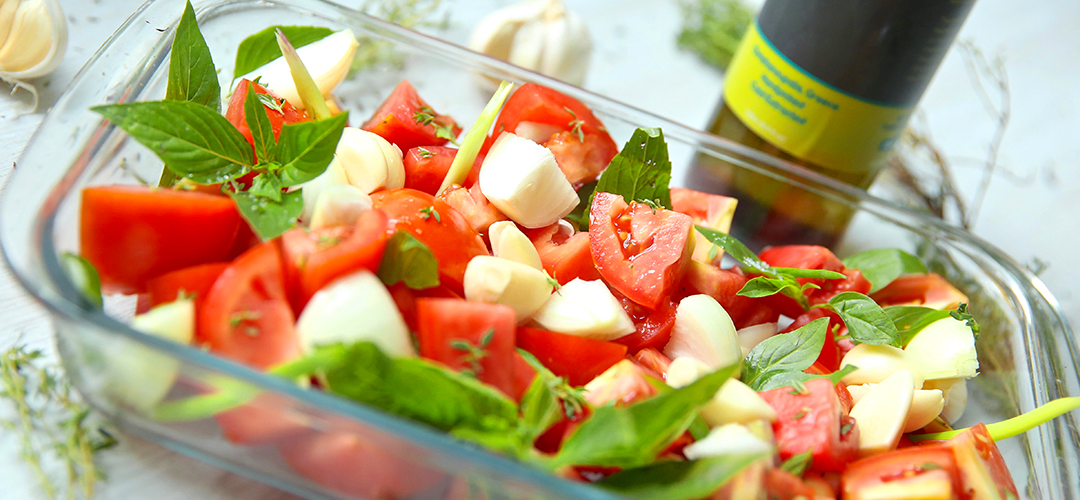 10 medium plummy (Roma)
tomatoes, quartered
6 cloves garlic
¼ cup basil, chopped
1 medium onion, diced
¼ cup extra-virgin olive oil
Scotch bonnet or habanero pepper,
seeded and minced
1 tablespoon brown sugar
1 teaspoon Himalayan sea salt
Ground black pepper
Preheat a broiler to 350°F.
Place the tomatoes in a baking dish with
the garlic, basil, and onions.
Pour the olive oil over the vegetables and mix together.
Place the baking dish under the broiler for 35 minutes,
or until the tomatoes are roasted (cooked but still
firm; skins will pop and begin to brown).
Allow the tomatoes to cool slightly, then pour the
vegetables into a high-speed blender and add the Scotch
bonnet to taste, the sugar and salt, and the black pepper
to taste. Blend until smooth, about 3 to 4 minutes.
Pour the warm mixture over a bed of Italian Raw
Pasta with Zucchini, Chocho, and Carrots (page 103),
spread on a pizza base, or pour into a bowl and garnish
with basil leaves for a delicious soup.
If you're not eating it right away, store the sauce in an
airtight container and freeze for up to 4 weeks.