I spent a year studying in Paris, and I think one of the few things I can say in French is Salade Niçoise. I adore this salad; it packs an awesome protein punch after a hard morning workout! It's so simple to make, the dressing is délicieuse (the other word I know in French), and it's oh-so-good for you.
YIELD: 2 servings
PREP TIME: 30 minutes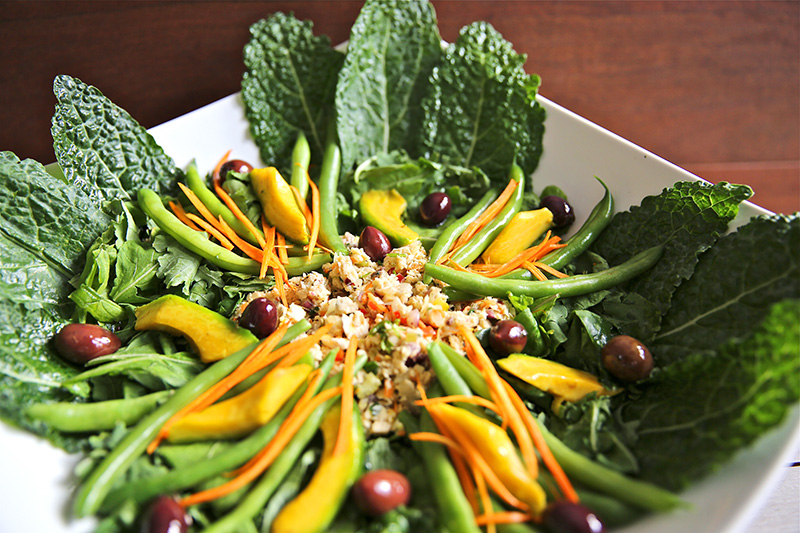 INGREDIENTS FOR THE DRESSING:
2 cloves garlic, minced
1 tablespoon chopped fresh rosemary, or 1 teaspoon dried
¼ cup extra-virgin olive oil
¼ cup balsamic vinegar
¼ cup fresh orange juice or water
1 tablespoon Dijon mustard
1 tablespoon honey or brown sugar
Himalayan sea salt
Ground black pepper
INGREDIENTS FOR THE SALAD:
2 (5-ounce) cans high-quality canned tuna (in water)
2 tablespoons extra-virgin olive oil
2 cloves garlic, minced
½ medium red onion, diced
⅓ cup fresh cilantro, chopped
1 tablespoon fresh thyme, chopped, or 1 teaspoon dried
2 tablespoons fresh lemon juice
1 Scotch bonnet or habanero pepper, minced
Himalayan sea salt
Ground black pepper
4 cups mixed greens
¼ avocado, diced
2 hard-boiled eggs, sliced (optional)
½ cup sweet potatoes, yams, or breadfruits, roasted and diced
¼ cup string beans, blanched
½ medium carrot, shredded
12 Nicoise olives
To make the salad dressing, combine the garlic, rosemary, olive oil, vinegar, orange juice, Dijon mustard, and honey in a high-speed blender.
Blend until the dressing is emulsified, about 30 seconds. Season to taste with salt and pepper.
Open and drain the cans of tuna. In a small bowl, combine the tuna, olive oil, garlic, red onions, cilantro, thyme, and lemon juice. Add the Scotch bonnet to taste. Season to taste with salt and pepper.
To assemble the salad, put the mixed greens in two beautiful bowls or plates.
Place the tuna mixture in the middle of the greens and the avocado, eggs, sweet potatoes, string beans, carrots, and olives around the edges.
Serve the dressing on the side for a perfect meal.