Who doesn't love chocolate? I sure do, and I loved it even more when I found out that chocolate in its pure state is a superfood. Not only does it have more than three hundred nutritional compounds including magnesium, calcium, sulfur, zinc, iron, potassium, and copper, but it is also one of the richest sources of antioxidants on the planet!
That's when I began experimenting with raw Jamaican cacao and came up with this recipe. Experiment with it; tailor yours to fulfill your chocolate obsession.
Here is my favorite combo. Eating just one of these rich and yummy balls is as satisfying as eating a whole bar of chocolate.
YIELD:
24 balls
PREP TIME:
20 minutes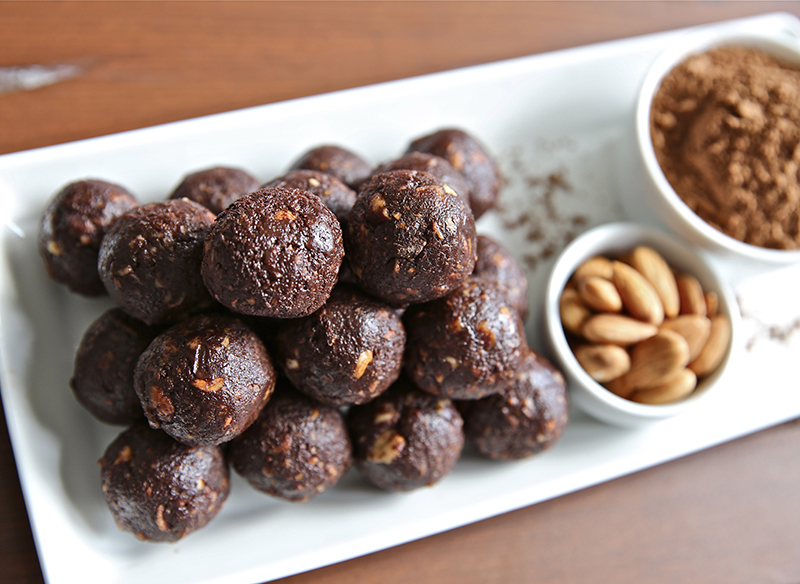 1 cup whole almonds
½ cup whole walnuts,
1 cup pitted dates, chopped
½ cup water
1 cup raw cacao powder
½ teaspoon cinnamon
⅛ teaspoon Himalayan sea salt
1 tablespoon vanilla extract
¼ cup unsweetened shredded coconut, toasted
1. Grind the almonds in a food processor or highspeed blender for 2 minutes, until finely ground.
2. Add the walnuts to the blended almonds, grind for just 2 more seconds, and transfer the nuts to a bowl.
3. Blend the dates and water in the food processor or blender, until smooth, about 4 to 5 minutes.
4. Scrape the dates into the bowl with the nuts.
5. Add the cocoa, cinnamon, salt, and vanilla to the bowl and use your hands (yes, it gets wonderfully messy) to mix everything together until the mixture is sticky.
6. Roll the mixture into bite-size balls.
7. Put the coconut in a small shallow bowl.
8. Dip each ball into the bowl of shredded coconut to make them pretty. (At Christmastime, I like to get festive and roll them in ground goji berries or pistachio nuts.)
9. Don't eat all 24 balls at once! They are great gifts.
10. Store in an airtight container in the fridge or freezer, where they last up to three months.