This recipe is inspired by my beautiful friend Chorvelle Johnson, author of Simply Vegan: The Jamaican Way. This has got to be the best pâté on the planet. Made with raw almonds and spiced with jerk seasoning, it's a gluten-free, vegan, high-protein, knock-your-socks-off delicious spread, dip, and sauce you can use on everything.
YIELD:
2 1/2 cups
PREP TIME:
5 to 10 minutes + 2 to 3 hours to soak the almonds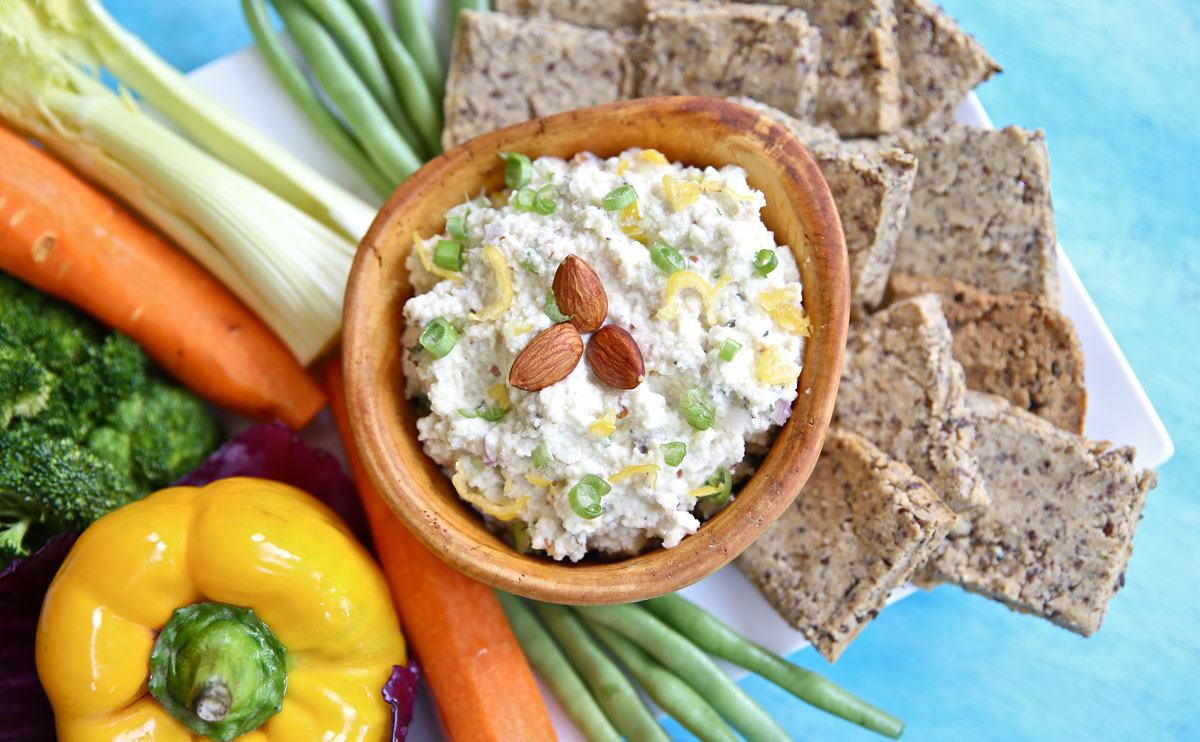 1½ cups raw almonds
3 cloves garlic, minced
1 medium onion, minced
2 whole scallions, chopped
¼ Scotch bonnet or habanero pepper, seeded and finely chopped
½ cup + 1 tablespoon water, plus more as needed
3 tablespoons fresh lemon juice
2 tablespoons coconut oil
1 tablespoon nutritional yeast
1 teaspoon Himalayan sea salt
1. Fill a medium bowl with water and soak the almonds for 2 to 3 hours. Drain and remove the skin. (To do this, use your fingers to gently squeeze the almonds and loosen the skin from them; take care not to squeeze too hard or they'll shoot across the room, which is fun but not superpractical! Squeeze them from one hand into the other to keep them from "launching" too far.)
2. Put the almonds and all the remaining ingredients in a highspeed blender and puree till smooth, about 3 to 4 minutes.
3. Add a little more water if needed (it should be spreadable).
4. Serve over these delicious foods from my Live Fit Kitchen Cookbook:
Dr. Tracey's Herbed Seed Bread (page 127), on Callaloo, Pumpkin, and Lentil Burgers (page 84), with Savory Flaxseed Crackers (page 131), or as a dip for anything!
5. This keeps in a glass container in the refrigerator for 3 to 5 days.